The Other "F" Word: Fracking Spooks the Harbor Gateway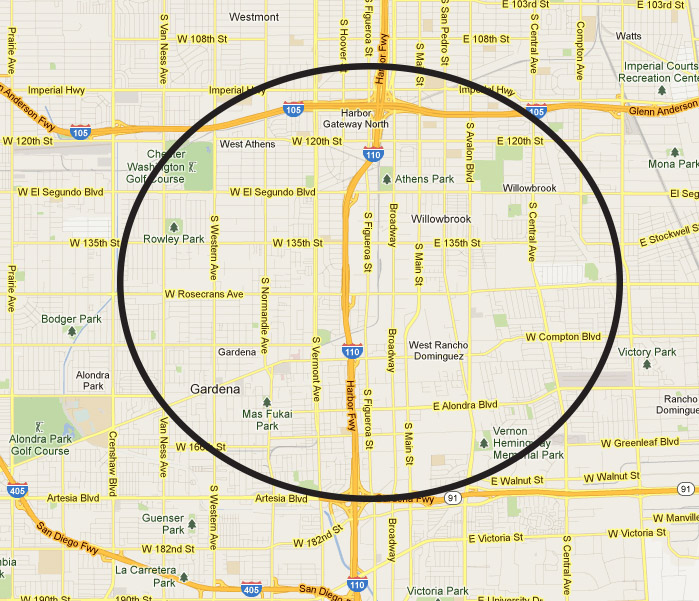 Murmurs of the "F" word began to circulate in the Harbor Gateway after a fleet of seismic survey trucks made their way through streets around the intersection of Rosecrans Avenue and Interstate 110 late last summer.
The parade of trucks was commissioned by BreitBurn Energy Partners to probe the subsurface of the community for hidden oil. The residents fear that a discovery of oil beneath them could lead to "fracking," which has fast become a dirty word in South L.A.
Dubbed the Rosecrans 3D Imaging Project, the survey has its own informational website and public relations staff. The seismic trucks stop and send intense vibrations into the ground every 65 feet or so – it's noisy, and it took workers about three weeks to complete. In tandem with a series of nodes buried throughout the neighborhood, the trucks use reflections and refractions of energy to help create a 3D map of underground resources such as oil and water.
Some residents of the surveyed neighborhoods say their homes have been damaged by the vibrations – cracks are appearing that weren't there before, a porch is separating from the front of a house, and some say they still feel tremors.
Rosalie Preston, the secretary of the neighborhood council, has been collecting the addresses of the homes in question and corresponding with government officials on the owners' behalf.
One of the houses on her list belongs to Lu Sells, who walks with a cane, and apologizes for the clutter in her home. She's been living in the stuccoed house for decades. Sells says she doesn't know when it happened, but her kitchen cabinets stopped closing completely. She opens and closes them to show that the doors are no longer flush with their frames.
She shuffles to her bathroom and explains that the cracks running the length of the floor are also new.
Sells doesn't know what caused the cracks. "I was hoping you could tell me," she said, earnestly.
She has no recollection of any loud trucks or the tremors they caused. "I'm home all day, and I didn't hear anything about that," she said.
Sells only knows that she saw a blurb in the neighborhood newsletter asking if residents have noticed any new cracks in their home's plaster or driveways. She called Preston to say, yes, she had.
---
LA Seismic was commissioned to perform the survey and has done similar mapping in at least five other California locations in recent years. At every stop, Diane Ripley says she gets a few calls from homeowners who say their property has been damaged. Ripley is the public relations specialist hired to manage community outreach for the surveys, including notifying residents along the route that noisy, vibrating trucks will be paying their streets a visit.
"They fall into one of two categories," said Ripley of the damage claims, "the ones from people who are trying to make a buck, and the ones from people who are genuinely concerned and actually think their houses have been damaged."
If a structural engineer finds that the damage wasn't caused by the survey, Ripley's clients don't cover repair costs. If the results are inconclusive or suggest the survey did cause damage, then LA Seismic would accept responsibility.
Ripley says she has never seen a case where a survey was shown to cause damage and LA Seismic had to take that responsibility. She's also never had as many complaints come out of one neighborhood as she has out of Harbor Gateway North.
And she has another problem – she wasn't receiving the complaints directly. The neighborhood council in the area recorded almost 20 complaints of damage to homes, but Ripley said only two people contacted her in the months following the survey.
She suspects they were trying to leverage the reports of damage to push forward the moratorium on fracking in the city that was sponsored by city Councilman Paul Koretz and Councilman Mike Bonin.
Ripley bristled at the mention of the word. "I don't want to be used as a political pawn against fracking. BreitBurn is not fracking here and they're not planning to frack here," she said. "They shouldn't even be associated with that word. It's just wrong."
---
The full name of the controversial method of oil extraction is hydraulic fracturing, and it's used to draw out oil and natural gas from underground pockets that are tough to access with traditional drills. The emptying of these hard-to-reach pockets is suddenly financially feasible, and oil companies have responded by deploying fracking in oil fields all over the world. The process uses a mix of water, chemicals and extremely high pressure to push oil out and up. Critics suggest fracking could cause earthquakes and contaminate water supplies.
Residents across South Los Angeles started noticing odors at their homes near drill sites, and a recent spate of health problems has residents urging oil companies to stop drilling in residential areas. While the health problems have not been definitively linked to oil drilling or fracking, the complaints are drawing negative attention to oil operations in densely populated areas.
The Harbor Gateway North Neighborhood Council set aside a large chunk of a recent meeting to discuss the Rosecrans seismic survey and the possibility of fracking.
Attendees provided public comment and testimony about the damage to their houses and the tremors they felt. As the meeting progressed, the testimony seemed more and more about the possibility of fracking than about the damage to residents' homes. Harbor Gateway resident Deborah Milligan spoke about her trip all the way to Sacramento to vie for Governor Jerry Brown's attention and request a statewide ban on fracking. Speakers from a local Sierra Club attacked all drilling within the city, citing "hidden" wells on Pico Boulevard and Genesee Avenue and near the Beverly Center.
Tension between city officials and the residents in attendance rose as questions about permits and land rights went unanswered. Hands shot up for public comment, but the meeting ran over its time limit and residents lingered to discuss their concerns and report property damage to the council secretary. As in so many other towns across the country, the prospect of fracking in the Harbor Gateway engaged its residents and encouraged civic action.
Less than a month after the meeting, the L.A. City Council approved a citywide ban on fracking with a 10-0 vote. The council is drafting a zoning ordinance to prohibit the process within city limits until more is known about its safety.
Residents continue to pursue reviews of the damage to their homes by structural engineers. Though LA Seismic did notify Harbor Gateway residents of its plans, many of them were not able to prepare proper insurance documentation in case of damage to their homes. Preston said that neighborhood councils should be notified when seismic surveys will be on their streets. "We think that the city should give more complete notification itself," she said in an email.
Despite their ongoing struggle in the wake of the survey, Preston said that the neighborhood council was "thrilled" with the vote to ban fracking and the city's efforts to protect residents in the future.
View BreitBurn Wells in a full screen map